We truly love our customers. Each time we send a package, we smile thinking about the woman who will receive the piece of jewelry inside. We can feel the love that's behind the orders that come in, and we know that each necklace and bracelet that we make has a story contained within it. We receive tons of wonderful notes from our customers and we love sharing them with each other-- they just make us feel plain good! So, very recently, we've asked a few of our customers if they would grant us permission to post their e-mails on our...
---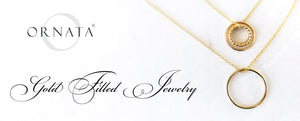 Our 14-karat gold-filled jewelry offers a simple yet elegant choice that delivers the color and richness of gold at an affordable price. Gold-filled pieces are usually considered lifetime products because a solid, thick layer of gold is bonded to the base metal core of the jewelry. Gold filled pieces have the same appearance as high karat gold, making them reasonably priced, quality alternatives to solid gold jewelry. In the United States, gold filled items are regulated by the government. The quality of gold-filled jewelry is defined by the Federal Trade Commission (FTC). If the gold layer is 12kt or higher,...
---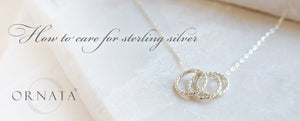 Silver is one of the world's most treasured commodities. Sterling silver inspires a level of trust and stands the test of time with regard to quality, appeal, and beauty.Ornata specializes in silver jewelry and offers both sterling silver and silver plated lines. The silver plated line features either fine silver or sterling silver plated over pewter, brass, or steel. We love silver because it reacts with its surroundings to bring out a warm luster over time. While this property of silver gives it life and character, it can also lead to tarnishing, which may be less desirable.Here is a bit...
---
We have officially launched the Ornata Jewelry retail site and couldn't be happier! Ornata is a customized jewelry collection that allows the wearer to express her values, joys, inspirations, passions, and memories. Although we've been creating jewelry for years, it's always been exclusively wholesale to gift stores, boutiques, and higher-end chain stores. Making the transition from business-to-business to direct-to-consumer can be challenging. It's a totally different model, and we're so Type-A about customer satisfaction that we thought it might be overwhelming to service many individual customers instead of a much smaller number of wholesale accounts. But it hasn't been overwhelming at all - our customers...